We provide a complete Building Management System (BMS) design consultancy service, consisting of full BMS specifications from concept to Tender issue. Our services can also assist MEPH consultancies aswell as providing support to the end user client.
We provide complete Building Management System (BMS) installations to control and monitor the building's mechanical and electrical equipment such as heating, cooling, ventilation, lighting, power systems, fire and security systems.
We provide complete Building Controls Energy Audits alongside our service level agreements to identify real energy saving opportunities by optimizing the Buildings operation for the end user.

We provide Energy Dashboard that identify real-time data and historical trends in the  changing environments. Periscope provides the opportunity for users to quickly identify issues, assess relationships, and take action in order to optimize resource efficiencies and ultimately reduce costs.
Periscope is the answer to end user requests for a more dynamic way to view the facility information within their buildings, from the highly technical to the non-technical. Periscope is designed to provide each user with their own unique dashboard. The dashboard can be set up from a growing library of "view lets" without affecting any other users' preferences and settings.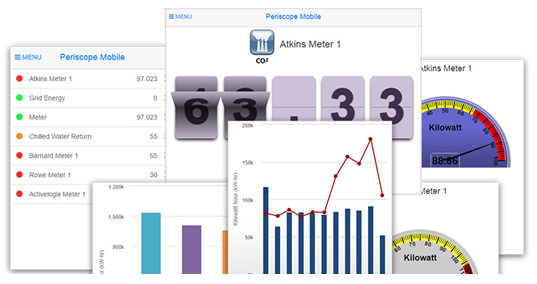 Periscope dashboards can be accessed on any mobile device that supports HTML5, which includes iOS and Android. The new mobile UI displays a list of HTML5 compatible view lets which are displayed using HTML5. View lets can also be exported to HTML5 using the "ShareViewlet" feature,  which allows embedding of view lets into 3rd party web pages.